Pinellas County Hunter Association Horse Show
LOCATION
Bob Thomas Equestrian Center
4800 U.S. Hwy 301 N
Tampa, FL 33610
COST
Admission: Free for Spectators
Parking: Free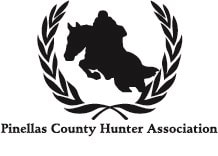 PCHA is a 501 c(3) non-profit organization. PCHA was established in 1948 and incorporated in 1987. We offer six hunter/jumper non-rated shows each year. Shows are located at the Bob Thomas Equestrian Center at the Florida State Fairgrounds.
COVID Guidelines
PCHA will maintain best practices that we have all learned and adopt at our shows in order to reduce exposure to and transmission of the COVID-19 virus.  Our shows are open to the general public.  We recommend social distance and masks are optional. Please click here for the PCHA COVID Policy and Procedures.
Please note that you will be required to sign the FSFA waiver at the entry gate to the Bob Thomas Equestrian Center as well as you must an assumption of risk and waiver of liability relating to COVID-19 for PCHA. You can download here.
Need more info or have questions, contact us.